Have Manchester City Shown Their Weakness? The Sunday Supplement Panel Discuss
Have Manchester City shown their weakness? The Sunday Supplement panel discuss…
Manchester United came from two goals down to beat Pep Guardiola's City 3-2 on the day that the hosts could have officially secured the Premier League title. It completed a disappointing week for City, who slipped to a 3-0 defeat to Liverpool in their Champions League quarter-final first leg at Anfield on Tuesday.
Speaking on the Sunday Supplement, the Sunday Mirror's chief football writer, Simon Mullock, said: "We talk about Manchester City being one of the best Premier League sides we've ever seen, but great Premier League teams don't give up goals like that. It's like a boxer having a glass jaw.
"It's very difficult to lay a glove on City but when you do then it only takes one punch and they're on the ropes. It happened at Anfield this week and earlier this season exactly the same. United didn't have to do that much different to put City under pressure and that's a worrying thing for Guardiola.
"You wonder how many leaders they've got in that team. You look at Arsenal with Patrick Vieira, United with Roy Keane. Have City got that player when it's going wrong, you look at Vincent Kompany maybe, but they maybe don't have that warrior that will bring the players together and that's maybe something Guardiola needs to address."
Rob Draper, chief football writer from the Mail on Sunday, agrees that City have shown their vulnerable side once again and wonders whether City's defeat could land Guardiola in a difficult position should they exit the Champions League.
He said: "They were on the verge of making history yesterday. They're a fantastic and wonderful team. The Manchester City team means you are vulnerable in defence and when they lose it tends to go wrong big.
"I remember at Leicester last season when they were 3-0 down in 20 minutes. At Everton they got thrashed. When Tottenham beat them 2-0 they had loads of chances, it could have been more. We've seen Liverpool do it twice this season.
"The vulnerability has been there. Pep has transformed this team and are a better side and better than [Manuel] Pellegrini and [Roberto] Mancini's side, but, barring a miracle on Tuesday, the owners will be questioning why they don't have a Champions League."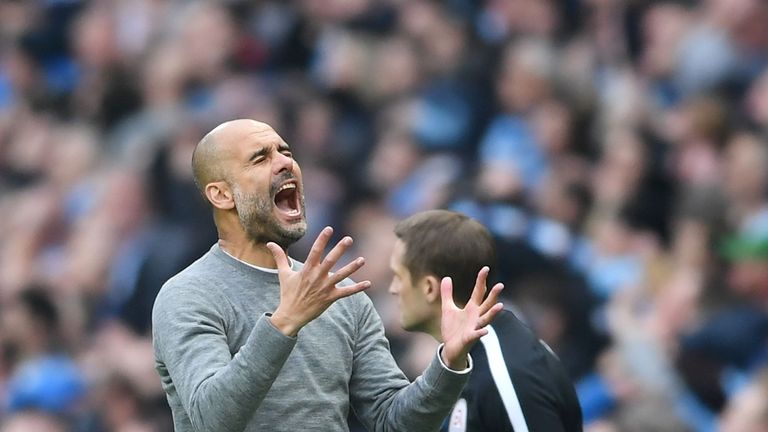 The Daily Telegraph's chief football writer, Sam Wallace, felt Guardiola handled the defeat well considering the magnitude of the match.
He said: "Although he can be quite difficult at times I thought he handled the defeat quite well. He didn't say anything where he tried to deflect blame. He didn't linger on the two penalty incidents.
"Sometimes, if a manager consistently doesn't deflect blame we sometimes forget that. He's the kind of manager whose teams do walk the tightrope and I like that, I think that's a positive thing."
You might be interested in